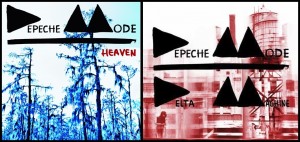 Disponible aujourd'hui la vidéo du nouveau titre « Heaven » de Depeche Mode, premier extrait de leur 15ème album studio « Delta Machine » qui sortira le 25 mars 2013 sur le label Columbia Records.
Pour l'instant  2 versions de l'album sont prévues, une version CD standard et une version Deluxe comprenant un CD supplémentaire avec 4 titres supplémentaires et un booklet photo de 28 pages. Pour l'instant aucune information sur la sortie d'une version vinyle, qui aurait plus que sa place dans les bacs à l'écoute des sonorités du premier extrait « Heaven ».
« Heaven » sera lui disponible en version CD Single et CD Maxi.
Pour le maxi vinyl de « Heaven » nous retrouvons sur celui-ci 4 mixes du titres , la version album de « Heaven » n'est présente que sur l'album , pas sur le maxi.
Side A
1-Blawan dub
2- Owlle remix
Side B
3-Steps to heaven voxdub
4-Matthew dear vs. audion instrumental mix
Tracklisting de la version Deluxe de « Delta Machine »
DISC 1
1. Welcome To My World
2. Angel
3. Heaven
4. Secret To The End
5. My Little Universe
6. Slow
7. Broken
8. The Child Inside
9. Soft Touch/Raw Nerve
10. Should Be Higher
11. Alone
12. Soothe My Soul
13. Goodbye
DISC 2
1. Long Time Lie
2. Happens All The Time
3. Always
4. All That's Mine
La tournée européenne de Depeche Mode démarrera le 7 mai 2013 à Tel Aviv et parcourrera 25 pays pour 34 dates.