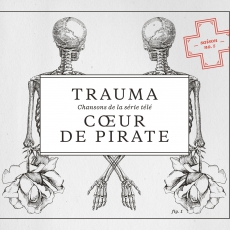 Pas vraiment un nouvel album de Coeur de Pirate mais un album de reprises de succès anglophones pour la bande son de la série télé nord-américaine « Trauma ».Un superbe album avec des reprises de tubes 60/70s (Kenny Rogers, The Rolling Stones, Nancy Sinatra) et d'autres plus contemporains (Amy Winehouse, The Libertines, Bon Iver, Patrick Watson…).
Mais cela ne surprendra pas les fans qui sont habitués de voir Béatrice Martin lors de ses concerts reprendre à sa sauce les chansons des autres pour le plus grand plaisir de tous.
Une seule version de l'album « Trauma » en CD Digisleeve en tirage limité prévu pour le 21 janiver 2014.
Tracklisting :
1-Ain't No Sunshine
2-Heartbeats Accelerating
3-Summer Wine
4-You Know I'm No Good
5-Music When The Lights Go Out
6-Last Kiss
7-Lucille
8-Slow Show
9-Bottom Of The World
10-Dead Flowers
11-The Great Escape
12-Flume
Coeur de Pirate – You Know I'm No Good