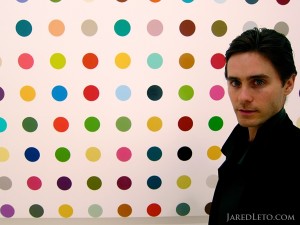 Quatrième album du groupe « Love Lust Faith+Dreams » sortira le 20 mai 2013 , quatre ans après l'album « This Is War ».Selon Jared Leto « cet album est plus qu'une évolution, c'est un nouveau départ.Au niveau de la créativité, nous sommes allés vers une direction nouvelle, passionnante, inattendue et très inspirante. »
Effectivement comme la plupart des groupes rock actuels la tendance est de flirter avec l'électro . Même si cela peut dérouter les fans de la première heure, l'important pour un groupe est d'évoluer tout en gardant son âme.
Le premier titre disponible à l'écoute est « Up In The Air », avec une vidéo de plus de 8mn et la participation de Dita Von Teese. Autre anecdote sur ce titre , le 1er mars 2013 la NASA a envoyé « Up In The Air » dans l'espace sur la station spatiale internationale par fusée !
Trois versions de l'album « Love Lust Faith+Dreams » seront disponibles le 20 mai 2013 : CD Digipack , CD+DVD Box Deluxe et en LP Vinyl via le label Mercury d'Universal Music
Tracklisting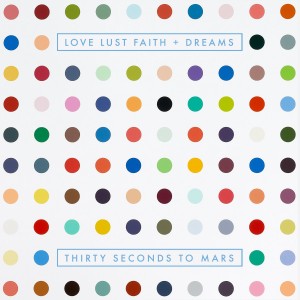 1. Birth
2. Conquistador
3. Up In The Air
4. City Of Angels
5. The Race
6. End Of All Days
7. Pyres Of Varanasi
8. Bright Lights
9. Do Or Die
10. Convergence
11. Northern Lights
12. Depuis Le Début
Spécificité de la version CD+DVD Deluxe : peu d'élément pour l'instant , en plus du CD standard, nous aurons droit à un DVD ( mais avec quel contenu ?) et quelques goodies (mais quoi?). A suivre …
Up In The Air – Video avec la participation de Dita Von Teese

Deuxième single « Do or Die » extrait de l'album »

Mais « Thirty Seconds To Mars » c'est surtout la scène, leur dernière tournée « This Is War » comportait plus de 320 dates à travers 60 pays et avec plus de 3 millions de spectateurs.A ce jour ils détiennent toujours le record du plus grand nombre de concerts sur une tournée.
Pour ce nouvel album « Love Lust Faith+Dreams » , la tournée passera cet été par la France :
– 5 juillet 2013 : Citadelle d'Arras (62) – Main Square Festival
– 9 juillet 2013 : Grand Palais, à Paris (75)
– 10 juillet 2013 : Parc des expositions, à Colmar (68)
– 12 juillet 2013 : à Aix-les-Bains (73) – Festival Musilac
– 16 juillet 2013 : Théâtre de verdure, à Nice (06) – Festival Crazy Week
– 18 juillet 2013 : Ile du Gaou, à Six-Fours (83) – Festival Les Voix du Gaou
– 19 juillet 2013 : Arènes de Bayonne (64)