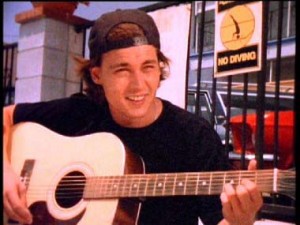 Nous somme en 1991 , Johnny Deep grand fan de musique et musicien depuis son adolescence tient le rôle principal dans le clip « Into The Great Wide Open » de Tom Petty & The Heartbreakers. Cette chanson fait partie de mes meilleurs souvenirs musicaux de 1991, elle est tirée de l'album du éponyme dont fait partie aussi l'excellent  « Learning To Fly ».
Un rôle dans ce clip qui colle parfaitement au jeune Johnny Depp : un jeune venu tenter sa chance à Hollywood et qui vend son âme au diable en échange du succès qui sera suivi de la déchéance. L'histoire de nombreux jeunes rockers qui se sont brûlés les ailes et qui ont pètés les plombs après un premier succès !
Dans le clip le rôle du diable est tenu par Faye Dunaway, et on peut même apercevoir Matt Leblanc , un casting de choix pour cette  superbe chanson.
A visionner et écouter sans modération :