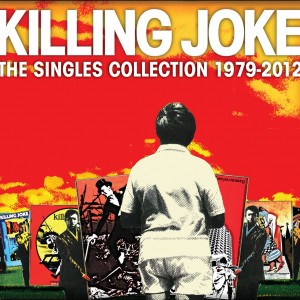 Plus la peine de présenter Killing Joke , le mythique groupe de rock britannique formé en 1979, qui a été l'un des groupe les plus influent de la période post-punk/new wave et rock gothique des années 70-80.
Il a fortement influencé les groupe de la vague grunge des années 1990 comme Nirvana (voir vidéo Come As Your Are).
Killing Joke fête cette année ses 35 ans de carrière et sort un coffret 3 CD avec « The singles collection 1979 -2012 » un coffret 3CD reprenant les principaux titres du groupe mais qui est surtout intéressant pour le 3ème CD qui regroupe des faces B, des rarities et des démos du groupe. Distribué par Universal (Mercury), le coffret sera disponible le 06 mai 2013 chez votre disquaire.
Tracklisting :
CD1
1. Nervous System 2. War Dance 3. Requiem 4. Follow The Leaders 5. Empire Song 6. Chop-Chop 7. Birds Of A Feather 8. Lets All Go (To The Fire Dances) 9. Me Or You 10. Eighties 11. A New Day 12. Love Like Blood 13. Kings And Queens 14. Adorations 15.Sanity 16. America 17. My Love Of This Island
CD2
1. The Beautiful Dead 2. Money Is Not Our God 3. Exorcism 4.Millennium 5.Pandemonium 6. Jana 7.Democracy 8. Loose Cannon 9. Seeing Red 10. Hosannas From The Basements Of Hell 11. In Excelsis 12.Fresh Fever From The Skies 13. European Super State 14. Ghosts Of Ladbroke Grove 15. In Cythera 16.Corporate Elect
CD3 Bonus Rarities Disc
1. Drug – from the 'Mortal Kombat: More Kombat' soundtrack 2. Hollywood Babylon (longer intro mix –previously unreleased version of a track from the 'Showgirls' OST) 3. Our Last Goodbye (from the 'Free The West Memphis 3' album) 4. Sixth Sun (previously unreleased track from the 'Absolute Dissent' sessions) 5.Timewave (demo – previously unreleased recording from the 'Absolute Dissent' era) 6. Feast Of Fools
(previously unreleased track from the 'Absolute Dissent' sessions) 7. Zennon (extra track on the 'Loose Cannon' DVD single) 8. Four Stations Of The Sun (unreleased track from the 'Democracy' sessions) 9. Money Is Not Our God (Radio Edit) 10. Pandemonium (Aotearoa Mix – Full-Length Version)
Revenons a l'influence de Killing Joke sur Nirvana, le plagiat n'a jamais été prouvé et ni avoué par Nirvana !
Killing Joke – Eighties – 1984

Nirvana – Come As You Are – 1992

Mais d'un autre côté deux ans avant Killing Joke , The Damned sortaient « Life Goes On » et là on retrouve un riff similaire !!! Alors qui a copié qui ? Il suffit de remettre les dates dans l'ordre.
The Damned – Life Goes On – 1982