Nous pouvons y voir des influences des White Stripes ou des des Black Keys, dans un style Keziah Jones par le chanteur et guitariste japonais.
Apparenté au départ au genre Visual Kei, Miyavi est un artiste reconnu au Japon depuis une quinzaine d'années mais c'est à l'étranger que sa côte commence à monterconsidérablement. Il a effectué plusieurs tournées mondiales et il est déjà venu 3 fois en France : Olympia 2008, Elysée-Montmartre 2009, Trianon 2011.
Personnellement je ne le connaissais pas , mais là j'ai pris une claque ….
Album éponyme, son 8ème , enregistré et produit à Londres par Dean Gillard (Taylor Swift, Rihanna, The Rolling Stones, Janet Jackson, Lindsay Lohan, Bill Withers…) avec 2 titres produits par l'artiste électro français Yuksek que du bon pour s'accompagner.
« Slap The World » Tour 2014 est le nom de sa nouvelle tournée dont Paris est la première date européenne.
Ci-dessous le tracklisting de son nouvel album  » Miyavi » qui sort le 10 mars 20104 en France avec un bonus DVD :
Tracklisting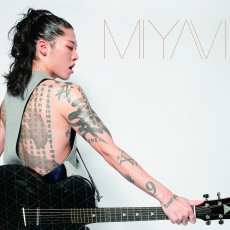 Justice
Horizon
Chase It
Secret
Cry Like This
Guard You
No one Knows my name
Hell No
Ahead of the light
Day 1
Free World
DVD
Ahead of the Light
At Akasaka Blitz
Making of Miyavi
Premier extrait : MIYAVI « Secret » un morceau que n'aurait pas renié Prince …vraiment excellent:)