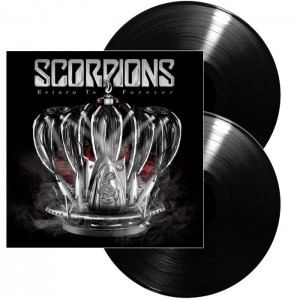 Scorpions fête ses  50 ANS DE CARRIÈRE !
Le 23 février prochain le groupe d'Hanovre va donc sortir un nouvel album studio.Pour l'occasion Klaus Meine (chant), Rudolf Schenker (guitare) et Matthias Jabs
(guitare) ont ressorti d'anciennes démos afin de retravailler, arranger et peaufiner ces compositions soient 'oubliées' pour finalement les enregistrer avec James Kottak (batterie) et Pawel Maciwoda (basse).Et voilà le résultat ce que Scorpions fait de mieux : du hard rock direct et mélodique doté de refrains imparables et, bien entendu, de superbes ballades.
Et là nous sommes gâtés l'album sort sur 4 supports :
* CD STANDARD boitier cristal, livret 12 pages + Sticker "50 years of Scorpions"
* CD EDITION LIMITÉE : Ecolbook, livret 24 pages + 4 titres bonus + Sticker "50 years of Scorpions"
* VINYL EDITION LIMITÉE HEAVYWEIGHT : Double LP 12 titres + Sticker "50 years of Scorpions"
* COFFRET SPÉCIAL 50ÈME ANNIVERSAIRE :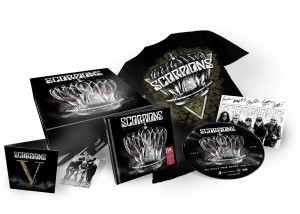 Dimension approximatives de la BOX : 18x18cm
CD Edition Limitée Ecolbook (16 titres) + 2CD Audiobook (interviews titre par titre
en anglais et allemand), T-Shirt exclusif, Carte Postale et Sticker "50 years of Scorpions", 45 Tours (We Built This House & House Of Cards), Clé USB (12 titres), Pass Backstage.
TRACKLISTING
01. Going Out With A Bang
02. We Built This House
03. Rock My Car
04. House Of Cards
05. All For One
06. Rock'n'Roll Band
07. Catch Your Luck And Play
08. Rollin' Home
09. Hard Rockin' The Place
10. Eye Of The Storm
11. The Scratch
12. Gypsy Life
Bonus CD Edition Deluxe :
13. The World We Used To Know
14. Dancing With The Moonlight
15. When The Truth Is A Lie
16. Who We Are
TOURNÉE FRANCAISE
Novembre 2015
21 LILLE Zénith Arena
24 PARIS Bercy Arena
26 STRASBOURG Zénith Europe
30 LYON Halle Tony Garnier
Décembre 2015
1 MONTPELLIER park & Suites Arena
3 BORDEAUX Patinoire Meriadeck
4 TOULOUSE Zénith
6 GRENOBLE Palais des Sports
Scorpions – Return to Forever – Track-by-Track-Interview
1er extrait de l'album : We Built This House