Enfin une superbe intégrale de The Clash reprenant 'intégralité des enregistrements studio soient les 5 albums remasterisés et en CD Vinyl Replica et le tout dans un superbe packaging en forme de « Radio Beat Box ».Le coffret et son contenu ont été compilés par le groupe Clash lui même.
Mais cela ne s'arrête pas là heureusement , car en plus des 5 albums studios (The Clash / Give Em Enough Rope / London Calling (double album) / Sandinista (triple album) / Combat Rock) s'ajoutent :
– 3 CD's comprenant des morceaux rares, démos, singles (ne figurant sur aucun des albums) et des faces B
– 1 DVD avec des images inédites de Julien Temple, des images de 1977 filmées en Super 8 par Don Letts, toutes les vidéos de promotion du groupe et des vidéos live inédites
– 1 livret
– 1 dossier contenant des réimpressions d'Armagideon Times 1 & 2 (24 pages) et Armagideon Times 3 (nouvelle édition du fanzine de 36 pages conçue par Paul Simonon)
– Des produits dérivés : des plaques d'identité, badges, autocollants et un carnet « The Future Is Unwritten » créé par l'artiste Harland Miller
Allez une vidéo est plus explicite pour vous montrer le contenu du Sound System by The Clash :
Le prix devrait être de 170 € , en précommande sur les principaux sites marchands et sur www.theclash.com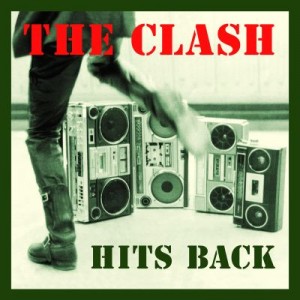 Le 9 septembre 2013 en même temps que la sortie du « Sound System » , sortira une compilation des Clash  » The Clash Back Hits » en 33 titres sur 2 CD. L'originalité de cette compilation c'est que l''ordre des morceaux du tracklisting des CD est basée sur la setlist du concert au Fairdeal de Brixton le 10 juillet 1982. Donc on retrouve cette même setlist mais avec les enregistrements studio plus 8 autres titres.
En bonus une copie de la setlist originale écrite à la main par Joe Strummer qui avait l'habitude de la scotcher au dos de sa Telecaster.