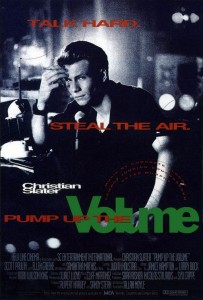 « Pump Up The Volume » , un excellent teen movie d' Allan Moyle, avec Christian Slater, qui dépeint la jeunesse désenchantée des années 90 . Mark Hunter (Christian Slater) lycéen timide la journée, qui se transforme le soir  en « Harry La Trique »  aux manettes de sa radio pirate .Avec des thèmes peu abordés à l'époque dans les films pour ados et un mot d'ordre, se faire une opinion par soit même et ne pas accepter les choses telles qu'elles nous sont dictées.
Avec une bande son qui frôle l'excellence, on y retrouve les Pixies, Soudgarden, Cowboy Junkies, Sonic Youth, Beastie Boys …
La trackliste de l'album de la B.O :
1. Everybody Knows – Concrete Blonde
2. Why Can't I Fall In Love – Ivan Neville
3. Stand – Liquid Jesus
4. Wave Of Mutilation  – The Pixies
5. I've Got A Secret Miniature Camera – Peter Murphy
6. Kick Out The Jams – Bad Brains
7. Freedom Of Speech – Above The Law
8. Heretic – Soundgarden
9. Titanium Expose – Sonic Youth
10. Me And The Devil Blues – Cowboy Junkies
11. Tale O' The Twister – Chagall Guevara
Mais un des classiques est le titre « Everybody Knows  » du grand Leonard Cohen :
Sur le disque de la B.O nous retrouvons la version du groupe Concrete Blonde ,ce qui leur a permis d'accéder à la 20ème place du Billboard à l'époque  :
En plus des groupes et titres cités précédemment, un titre avait retenu mon attention à l'époque » Why Cant I Fall In Love ? »  d'Ivan Neville ( le fils d'Aaron Neville !) à redécouvrir :
Attention nous étions en 1990 à la grande époque de l'analogique , c'est un temps que les moins de 20 ans ne peuvent pas connaitre, mais pas l'ombre d'un appareil digital à l'écran ! Que du bonheur : des amplis massifs non miniaturisés, des K7 audio , et des disques vinyl …. et des chewing-gum Black Jack !